Happy 2011, errrbody! The stats helper monkeys at WordPress.com mulled over how this blog did in 2010, and here's a pretty chart thingy they gave me to illustrate my blog's  "overall health":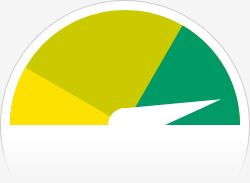 The Blog-Health-o-Meter™ reads Wow.
Now, getting a "Wow" rating is all well and good, but my focus is on the FUTURE, readers. What's in store for 2011? Generally, I don't know. But when it comes to this blog, I do! Two words: FLIP CAMERA! My amazing, wonderful gentleman friend got me one for Christmas! I have tons of ideas for Kosbie videos and I can't wait to start working on them.  In the meantime, I didn't want to make you guys wait, so I decided to make a quick video for your viewing pleasure. Unfortunately, as soon as I turned on my camera, Kosbie ceased to do anything interesting at all and became mesmerized by the camera and then bored. So I tried spicing things up with an interesting camera angle…next I resorted to using the "Mango Mambo" to cover up the tedium of this video (and also maybe the sound of my voice begging Kosbie to do something exciting). So, yeah! Here it is, my first (and worst) video for the blog!
Please forgive me.
P.S. – I promise that in real life, Kosbie's eyes don't look like two, empty, lifeless, coal lumps made of pure evil…well, not all the time.